Public Nuisance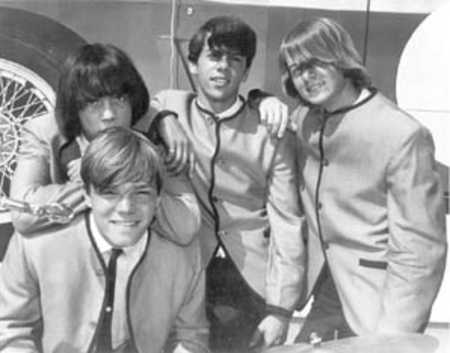 Moss & The Rocks
Public Nuisance were a Sacramento, California band in the early 60s. Their roots were in the Jaguars, who changed their name to Moss & the Rocks. Under that moniker, they recorded a folk-rock-flavored garage single, "There She Goes"/"Please Come Back," for the small local Ikon label. Later that year, they re-recorded both tunes for a single on Chattahoochee. Both 45s are very rare and by 1967, they had changed their name to Public Nuisance and gone in more psychedelic directions without forsaking their garage energy. Public Nuisance opened for acts such as the Doors, Buffalo Springfield, Sonny & Cher, and the Grateful Dead and did some unreleased recordings at Fantasy in San Francisco. However, they didn't have a record deal until some demos in late 1968 helped get them a contract with Equinox, run by noted Hollywood producer Terry Melcher (who had worked with the Byrds and Paul Revere & the Raiders). At the end of 1968 and the beginning of 1969, they recorded an album's worth of songs, but nothing was ever released, on Equinox or elsewhere. Public Nuisance disbanded around 1970. The unreleased 1968-1969 sessions sound almost anachronistically unpolished by the standards of the day's psychedelic acts, and perhaps none of these would have been released if the band had been granted a chance to officially issue an album. However, in 2002, they were retrieved and issued by Frantic Records on a well-packaged archival release that will be of interest to intense fans of the late-'60s garage/psychedelic sound and is more diverse and eclectic than many other reissues of such bands.
Line-up: Pat Minter, Jim Mathews, David Houston, Ron McMaster
Since the release by Frantic Records is out-of-print for quite some time, Third Man Records presents "Gotta Survive" with new artwork and mastered directly from the original two-track analog masters by Ron McMaster (the band's drummer!) at Capitol Mastering in Hollywood, CA. Comes with MP3 download code for the entire album.
Release Date: Oct. 9th